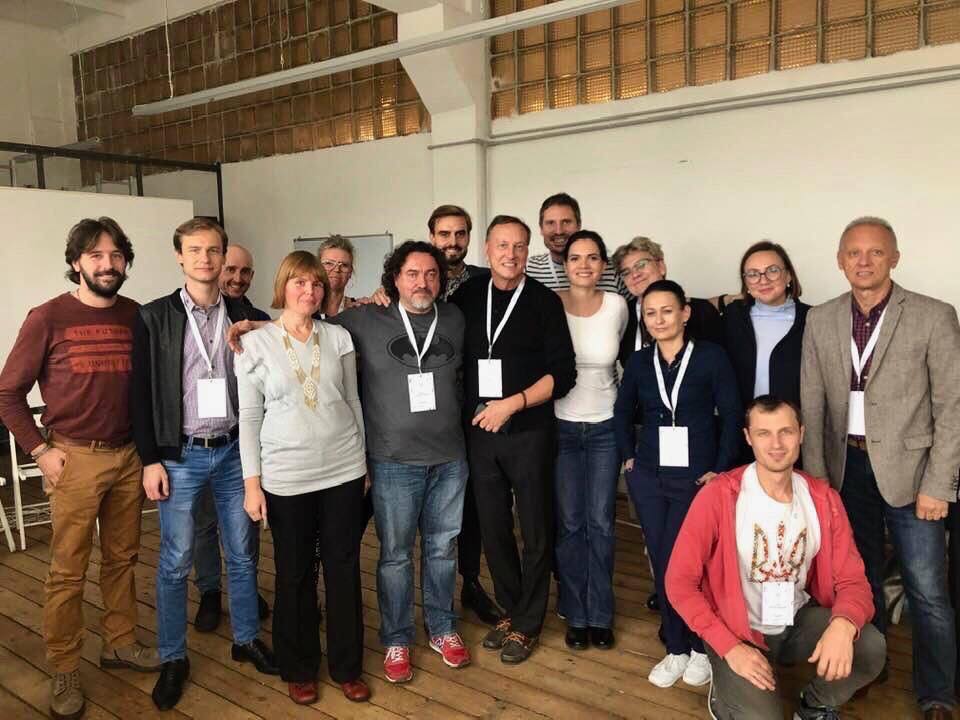 About Us
The "Ukrainian Bildung Network" NGO is driven by the group of educators:
Serhii Chumachenko – NGO Founder, the leading Ukrainian researcher of Bildung, trainer
Mihail Krikunov – NGO Founder and President, professor and consultant in business and management
Anastasia Nekrasova – consultant, trainer, coach, facilitator and a learning designer
Among Founders of our NGO, there are:
We are a team of like-minded people who aim to implement a Folk High Schools network in Ukraine and launch the process of building of adult Ukrainians.
Listen to the podcast "Bildung, Identity, and Nordic Inspiration in Ukraine" with our cofounders and a member of our NGO.
Contact us
Message to our Facebook-page or to our Facebook-profiles mentioned above.
Email to us to bildung.in.ua[at]gmail.com
Our Partners
International
Ukrainian
Also, we involve volunteers for translating English articles on bildung and Folk High Schools.
Our Projects
Ukrainian Library of Bildung
Elena Tochilina, Serhii Chumachenko and Yurii Pyvovarenko coordinate translations of books about bildung and Folk High Schools into Ukrainian.
Create the Vovchok Folk High School
Serhii Chumachenko with a team creates the first Folk High School in Ukraine.
Study Circle on Bildung
Yurii Pyvovarenko and Iryna Sharpylo coordinate the first Study Circle which is aimed to better understand what is bildung while discussions of the Ukrainian translation of The Nordic Secret book.
Researches on Bildung for Ukraine
Serhii Chumachenko finds new information and data on bildung which helps to implement it in Ukraine.
You are welcome to support us financially
Legal Entity: NGO "UKRAINIAN BILDUNG NETWORK"
Enterprise Code: 44527701
IBAN: UА313510050000026005879150505;
Purpose of payment: Voluntary donation for statutory activities, from Full Name, Tax Identification Number.
Address: Horlivska street, 38/40 of.154, Kyiv, 02091, Ukraine
Bank Name: Public Joint Stock Company "UkrSibbank";
Bank code: 351005
BENEFICIARY BANK for EUR (JSC "UkrSibbank"): 07205696;
UKRSIBBANK; Andriivska Str. 2/12, Kyiv, Ukraine; SWIFT Code: KHABUA2K.
INTERMEDIARY BANK: BNP PARIBAS SA; Paris, France; SWIFT Code: BNPAFRPP.
Our Results
2021
On February 25, we launched the Facebook page Bildung in Ukraine (in Ukrainian and Russian languages), and since then we have been publishing information about Bildung and Folk High Schools on it almost every week. At the end of 2021, we have about 530 subscribers on this page.
Meanwhile, in 2021, the number of members of our Facebook group exceeded 600.
Together with our partner Cowo.guru, we recorded a video presentation about the Folk High Schools (watch this Russian-language video below on this page), which has already been viewed more than 1,800 views. The video was published on March 10, 2021.
On May 8, we held an online forum dedicated to Bildung and Folk High Schools – watch videos and presentations.
On October 7, the Ukrainian translation of The Nordic Secret book was presented at the Urban Space 500 in Kyiv during the 6-th Book Club organized by Valerii Pekar. Our co-founders – Serhii Chumachenko and Mikhail Krikunov took part in the discussion of the book. Watch the timeline of the video of the meeting and its transcript. This video has been viewed about 1000 times. We thank very much to Valerii Pekar for the organizing and moderating this!
On October 20, we launched the first Study Circle (see English-written article about Study Cirlces) and since then we have held several meetings to discuss the first two parts of the the Ukrainian translation of The Nordic Secret book. Meetings of this Study Circle continued in 2022. We publish photo reports of these meetings in our Facebook group.
On December 22, 2021, our NGO, the Ukrainian Bildung Network, was registered.
During 2021, volunteeres translated most of the English-written sections of the anthology on Bildung. We still do not have the strength to read them all and prepare them for publication… We thank you very much to our translators for the large amount of work done:
Nikita Zhuk
Anna Rohalska
Halyna Yarmolenko
Daria Yemets
Irina Guziy
Iryna Sharpylo
2020
We have declared that 2020 is the year of Bildung in Ukraine to tell the widest possible audience about the social, economic and political value of lifelong development.
Our initiative group held several face-to-face and online meetings to coordinate their actions and develop a Communication Strategy.
Serhii Chumachenko drafted the first version of the Concept of the Ukrainian Folk High School (UFHS).
Students of the Institute of Philology of the Taras Shevchenko National University of Kyiv draft-translated for us from Swedish more than 110 pages of the Clara Nankler's book "Folkbildning and Solidarity". And now we are working to complete the translation of this book and publish it. This will allow as many Ukrainians as possible to learn about examples of international activities carried out by the Swedish Folk High Schools (FHS) and to feel the power of education in such informal education institutions.
Our Facebook group distributed more than 40 articles about folk high schools, Bildung and Scandinavian countries.
The number of members of this Facebook group reached 480 people.
This site was created and filled with the first blog posts and Knowledge Base articles.
We created a page about Bildung in Ukrainian Wikipedia.