Last updated on May 7, 2022.
Damaged cities of Ukraine
This page was published on 2022-03-08 and was updated several times. See updates below. <- Go back to the previous page <- Повернутись на попередню сторінку

These damages and attacks caused over 2 000 deaths of civilians and over 2 000 000 refugees! (See proof here.) More photos can be found here.
1. Bila Tserkva

2. Borodyanka

3. Bucha (killed civilians)

4. Byshiv

5. Chernihiv

6. Hostomel

18. Zhytomyr

7. Іrpin

17. Sumy

8. Ivankiv

16. Sevrodonetsk

9. Kharkiv

15. Popasna

14. Okhtyrka

13. Mariupol

12. Kyiv

11. Kramatorsk

10. Kherson

Most photos are from pravda.com.ua articles.
More maps can be found here.


(update on 2022-03-10)
71 children died during the 15 days of Russia's war against Ukraine. Another 100 children were injured.
Russian army launch ballistic missiles into apartment buildings, fire from cannons on apartments while our children sleep, barbarically blockade our children in cities to make them die of dehydration and starvation.
Nothing soothes our pain for the fallen angels. But Ukraine will do everything to ensure that Putin bears the heaviest and most severe punishment for his war crimes at the international tribunal.
For the murder of three children in Malyn, Zhytomyr region, as a result of an air strike. One of them is a five-year-old girl and two babies born in 2021.
For shooting a 16-year-old boy at a market in the village of Zhukovsky in the Kharkiv region.
For the death of two children as a result of shelling in the village of Slobozhanske, Izium district.
For dozens of deaths of Ukrainian children who will never go to school again, will not become outstanding inventors, will not please the smiles of their relatives, will not see new cities. Never.
Russian occupiers have destroyed more than 200 Ukrainian schools, 34 hospitals, and more than 1,500 residential buildings.
Are these arguments not enough for the world to close the sky over Ukraine? #CloseTheSky


(update on April 3, 2022)
Massacre in Bucha
As russian troops withdraw from Bucha near Kyiv, they leave dozens of slain civilians(!) behind.
Many male bodies are lying dead with their hands tied behind their backs and their heads covered with a hat or a hood. That were non-combatants gunned down in cold blood.
The mayor of Bucha, Anatoly Fedoruk, reported horrible information that 280 corpses of people killed by the russian occupiers were buried in a mass grave. Weeks of occupation became hell for the locals and the entire nation.
Some other damaged cities
Mala Kostromka (near Kryvyi Rih)
Also, you are welcome to visit the following websites:


(update on 2022-04-09)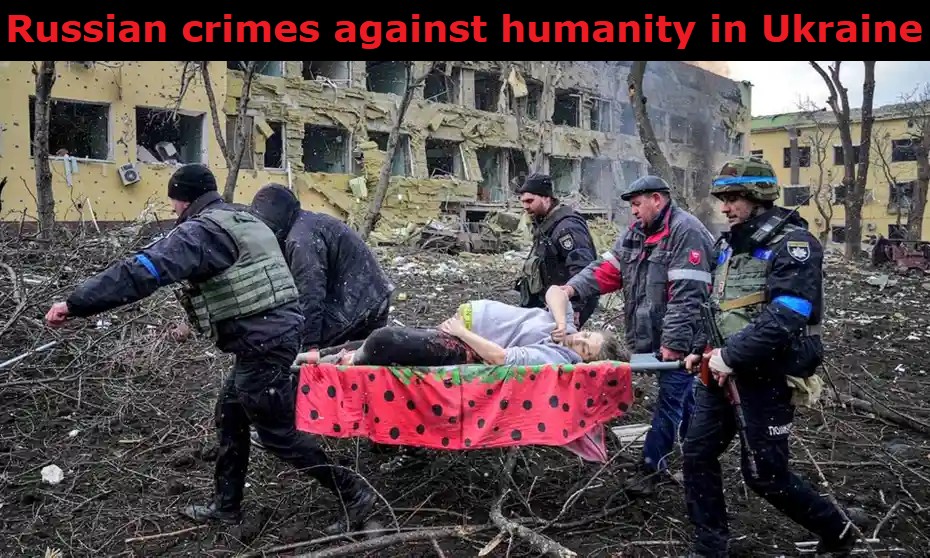 In the last turbulent century, human rights have risen and institutions have been established to protect these rights.
And now, russian troops are committing terrible crimes against humanity. – We have created a Facebook group in which we collect publications about such crimes.
We ask you to share information about these crimes as much as possible. If we do not do this now, unpunished evil will come with even greater force soon. Visit the Russian crimes against humanity in Ukraine Facebook group and share any post from it.
Also, you are welcome to visit the following websites:


(update on 2022-04-09)
Damaged and destroyed cultural objects
According to preliminary estimates, as of April 1, 2022, more than 150 different monuments and cultural objects were partially damaged or completely destroyed as a result of a full-scale кussian military invasion of free Ukraine. Source: UACulture – media of the Ukrainian Cultural Foundation


(update on 2022-05-07)
Satellite Images Map of Ukraine
You are welcome to watch the Satellite Images Map of Ukraine:



Protect Ukraine – click on the appropriate flag to see the translation in another language: